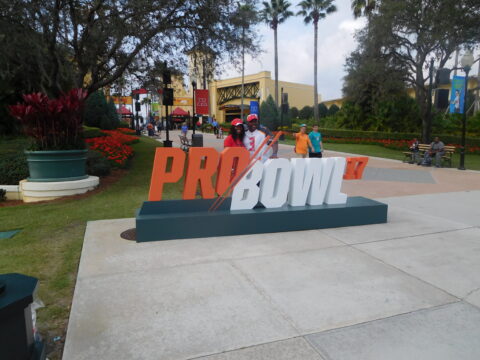 OAI Creates Monument Display for 2017 NFL Pro Bowl
For the 2017 NFL Pro Bowl events held at ESPN Wide World of Sports, OAI was asked to create a special dimensional signage piece to display at the entrance of the park, in addition to the featured environmental graphics and branding displayed at the site.
OAI worked with the NFL on the desired look and display needs of the requested Pro Bowl 17 sign. The organization needed a large monument sign that could be used temporarily at the event then be easily removed without leaving any damage. For the temporary use of the Pro Bowl 17 monument sign, OAI developed engineering for an above ground installation that would allow the sign to withstand 94 mile per hour winds. For the sign to be used in later years, the "17" was designed to be removed and replaced without damaging the core of the display.
OAI worked with the NFL on the desired look of the Pro Bowl 17 sign, then developed a layout based on the needed engineering for the fabrication of the display using aluminum, acrylic and cement solids. The result was beautifully crafted five feet high by thirteen feet wide, non-illuminated monument display that served as a landmark entering the park and photo opportunity for guests.
Have a project that you would like to talk to us about? Contact sales@oaicorp.com or 813.888.8796!
For more information on this topic contact marketing@oaicorp.com.