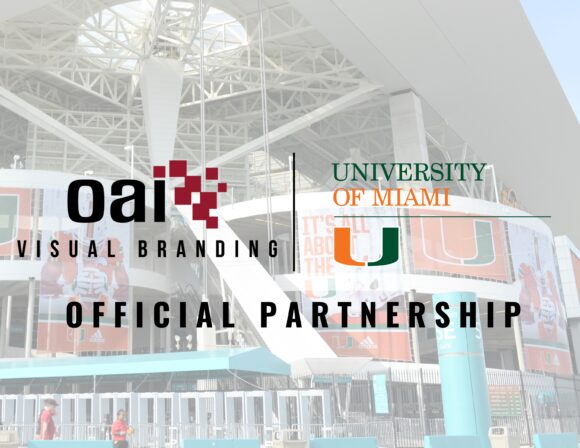 Miami Athletics Announces Two-Year Partnership With OAI Visual Branding
Source:

University of Miami Athletics
Learfield Sports' Hurricane Sports Properties and OAI have agreed to an official two-year partnership with Miami Athletics, it was announced on Tuesday.
Miami Athletics' partnership with OAI will assist the Athletic Department in creating stadium graphics and various printed and dimensional signage at Hurricane home venues.
"We are excited to welcome OAI to the University of Miami Family and look forward to the start of a mutually beneficial partnership for years to come," said Hurricane Sports Properties general manager Shawn Kuzmin.
OAI Visual Branding, a National Branding Company, has been selected to create branding and signage solutions for the University of Miami. OAI specializes in managing, producing, printing and installing innovative graphic solutions for some of the world's most trusted and observed brands.
The companies' clients represent a variety of markets including sports, events, venues and facilities, the out-of-home industry, tradeshows, and many more. "It's exciting to finally make it official and partner up with such an amazing team of people after working with University of Miami for many years.
We are honored to be able to continue developing and growing brands in the Southeast Region by providing our products and services," said OAI's Chief Operating Officer, Brian Mathiews.
OAI has been featured with numerous professional organizations and has had its work on display at Super Bowl XXXVII and Super Bowl XLIII. Amalie Arena, Outfront Media, Freedman Decorating, New Year's Six Bowl Games, Honda Grand Prix also have featured graphics from OAI. To learn more about OAI and its history, visit oaicorp.com.
To learn more about Learfield Sports its history, businesses and job opportunities, visit www.learfieldsports.com.
Learn More:
http://hurricanesports.com/news/2017/7/11/miami-athletics-announces-two-year-partnership-with-oai-visual-branding.aspx