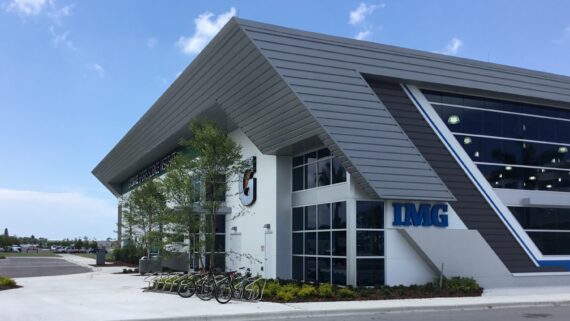 IMG Academy called on OAI to assist them in outfitting the exterior of their Gatorade Sports Science Institute (GSSI). In determining how to showcase two powerhouse brands, IMG and Gatorade, OAI surveyed the building to determine the optimum branding opportunities. After a detailed survey, OAI knew custom, architectural signage was needed. This would create a high-quality exterior look that would be cohesive to the rest of the buildings throughout the campus.
Building architecture, local site conditions, applicable codes and a desired image, enabled OAI to produce and install several custom channel letters to outfit the GSSI building.  Resulting with a front-lit Gatorade logo flush mounted to the building exterior.
The final result was a high-end  and clean presentation, consistently seen throughout the rest of the campus.