At OAI, we are proud to be synonymous with high quality production and installation of large-scale signage and visual displays throughout the southeast. Thousands pass by our work on a daily basis- highlighted on the facades of Super Bowl stadiums, arenas, Universities, malls, and hospitals.  In short, we offer solutions that enhance brand identities.  When COVID-19 hit, and shut down sporting events, a large portion of our business portfolio, a new solution was needed from the company.
"We are a company that prides itself in being nimble and able to quickly provide solutions to our clients.  With COVID-19, we needed to provide solutions for our own business needs, as well as the needs of the community.  Immediately, we began to work towards production of PPE (personal protective equipment)," explained owner, Michael Garcia.
We had to come together, while staying apart, and turn back on our silenced machines to produce what the community needed- personal protective equipment.  We were equipped with the abilities to mass produce face masks made from a 3-ply poly cotton fabric that is washable and thus reusable.
We did not have the perfect design from the beginning.  We have been conducting research, sending our masks to local medical professionals for their expert opinions and design suggestions, and also studying those already out there on the market.  From our research, we have found:
The 3-ply poly cotton fabric to help ensure that germs on both the inhale and exhale are barricaded in the mask
The poly cotton material is less abrasive on the face making it a more comfortable experience- thus helping to ensure people wear them
Our ear bands have been tweaked multiple times. Many complained of the fastening features as being too tight, too loose, or too restrictive.  Our lycra ear bands are soft, light, and able to be slightly adjusted to ensure a tight fit along the bridge of the nose.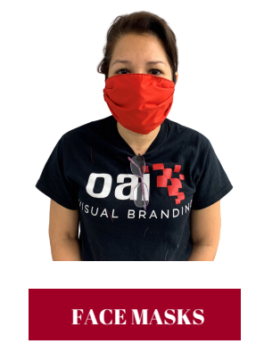 In addition to the face masks, for those needing or wanting a greater level of protection due to close contact with others, we have also been producing face shields that are made of a clear plastic shield, foam headband and elastic strap.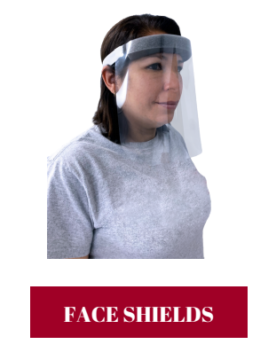 Prior to selling to businesses and individuals, we placed our initial focus on serving the community through donations.   Our face masks have been given to groups associated with The Buccaneers, Outfront Tampa, Outfront Miami, The Straz Center, Ronald McDonald House and the Philippine Nurses Association.
Now, as businesses start to reopen across the state of Florida, and the country, and we all get used to this new normal of sporting face masks in public places and for travel, we are ready and here to help the masses.  Our face masks and face shields are for sale individually at the OAI production location at 4545 W Hillsborough Ave.  Tampa, FL 33614.  The drive thru pick-up option is open daily from 9 am until 5 pm.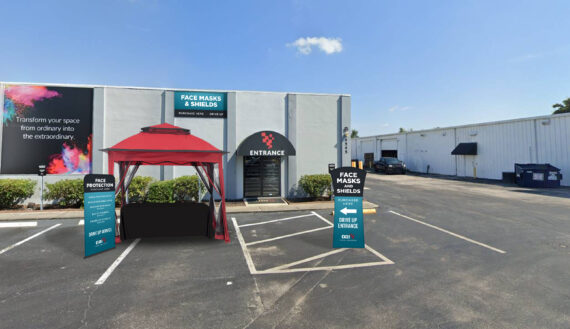 Additionally, both are available in bulk orders with a minimum of 10 units.  Facemasks are available in an array of colors with a customizable option (for additional charge).  To learn more about placing a bulk order, contact:  sales@oaicorp.com