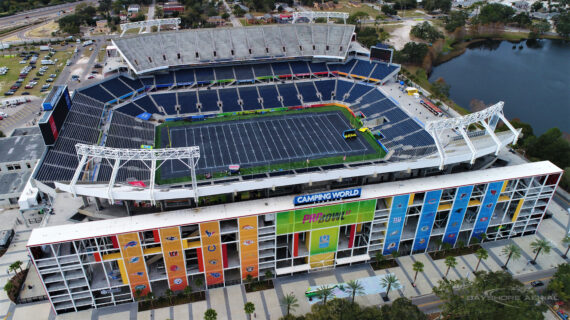 OAI Develops Stadium Branding For Vibrant Graphics To Decorate 2017 NFL Pro Bowl Game
For the 2017 NFL Pro Bowl Game, OAI created the stadium branding package to decorate and transform Camping World Stadium. The NFL relied on OAI's industry expertise in stadium branding to design, produce and install the graphics for the game.
Based on the NFL Pro Bowl's brand guidelines, OAI designed interior and exterior signage featuring the NFL's brand, as well participating teams and partners. The exterior of the north side of the stadium featured multiple vertical banners. NFL teams were grouped on eight banners, with the AFC on the right and the NFC on the left. The south side showcased the Pro Bowl's logo, conference logos and the game's slogan. The result was a vibrant array of graphics that OAI printed and installed to decorate the exterior of the stadium from top to bottom.
The interior of the stadium was transformed into the NFL's colors and images through field walls, upper deck banners, tunnel covers and scoreboard signage. Again using the strategic color placement to feature all the teams and conferences, the graphics flowed attractively through the stadium. These banners were seen throughout the televised game, receiving millions of impressions from viewers.
Please contact marketing@oaicorp.com for more information on this topic.
---
Have a project you'd like to talk to us about? Contact 813-888-8796 or sales@oaicorp.com!