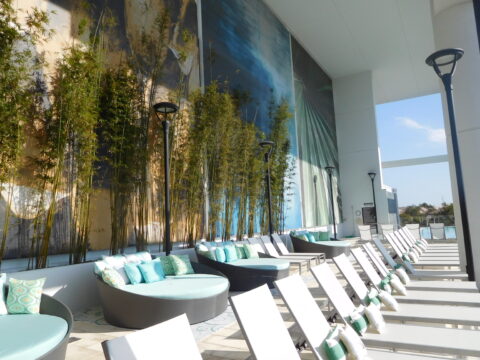 OAI Helps Parking Garage Go From Drab To Fab With Banner Display Art
When challenged to attractively conceal the parking garage at 500 Harbour Island, OAI Visual Branding provided a banner display system that accomplished this goal. OAI started this project by visiting the site for measurements and photos to determine potential branding opportunities. This led to the thought of displaying art around the garage. The banners would have to enhance and blend with the environment, as well be securely attached to the building to withstand the elements.
Engineers were called in to assist OAI in developing the frames that would be installed onto the building as a permanent fixture. Graphic designers developed the art that would be displayed on each banner to accentuate the buildings appearance. And finally, OAI would produce and install the banners and frame systems. This project took about a month to complete and the results offered a new, enhanced look to the building.
The pool and lounge area required frames to be installed closely together in order to completely block the parking garage. Banner frames were that were installed around the four sides of the building measured over 47 feet high by 14 feet wide.  To save money these frames were installed further apart which still offered the same artistic effect. Overall the art displays added a decorative touch to the building's facade, while concealing the garage from residents and guests.
Contact marketing@oaicorp.com to learn more about this project.
---
Have a project you'd like to discuss with us? Contact sales@oaicorp.com or 813-888-8796 to speak with one of our branding experts!