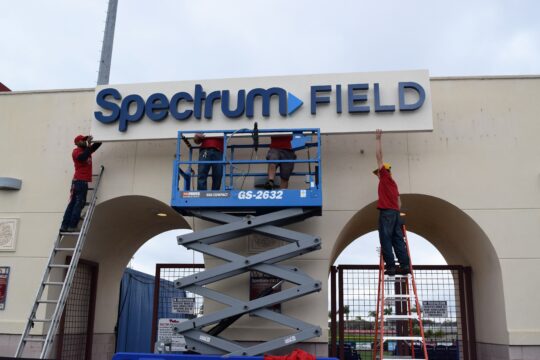 THE GOAL
Create architectural signage to identify and brand the newly named Spectrum Field.
THE APPROACH
To begin this process OAI explored the facility's conditions and tenant needs, such as the building facade and night-time use.
OAI recommended an illuminated branding solution that would ensure visibility in the evening and provide a dramatic effect for both the Phillies and Threshers.
THE RESULT
For Spectrum Field, OAI chose to fabricate a reverse lit channel letter option on a raceway backer.
The reverse lit channel letters are illuminated with LED lighting and accented with painted returns.
The purpose of the raceway backer was to house all of the electrical components, avoid having to make numerous holes in the wall, and make the installation process much more efficient.
We also chose to paint the backer the same color as the building and included a textured, light stucco finish which makes for a cleaner halo effect without any hot spots