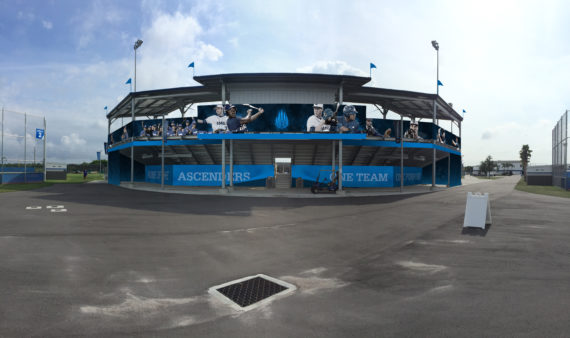 Transform your stadium with a dramatic, fresh look using Bleacher Graphics!
Both high impact and surprisingly affordable, Bleacher Graphics create a bold and finished look using vinyl or mesh banners to wrap any surface of your stadium.
Once specs and placement are determined, banners are easy to change which makes Bleacher Graphics a large-scale and versatile marketing tool. Post season schedules to drive traffic to games, recognize all-stars in your roster, showcase sponsors to create more revenue, or showcase team logos, colors and images, the options for design and business objectives are limitless.
As leaders in the production and installation of stadium signage, OAI will take measurements of your stadium, then integrate your vision for Bleacher Graphics to create a custom design that will dramatically transform your existing bleachers. 
 Think your stadium could benefit from Bleacher Graphics?
Contact us today for a quote or schedule an appointment for a site survey by calling 813-888-8796 or email sales@oaicorp.com!