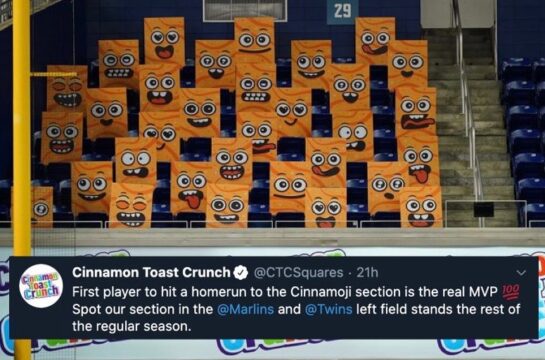 WOW! Creative, cute and fun idea thought up by General Mills to sponsor the delicious and well known Cinnamon Toast Crunch cereal. These new "Cinnamojis" can be found at the Miami Marlins and Minnesota Twins left field stand sections, for the remainder of the MLB season. OAI was fortunate enough to be a part of this project by helping to determine the sizing of each "Cinnamoji" seat cover, including the installation. Custom stadium solutions such as the "Cinnamojis" have the ability to keep the fan experience alive, while undergoing todays circumstances.
"A unique project with creativity from the brand and the teams, allowing us to bring some fun into our workday as we showcase the Cinnamon Toast Crunch "Cinnamoji" section at Marlins Park. A great way to start off our morning! Thanks Miami Marlins & General Mills." -Ray Perry OAI Director of Sales
Checkout the full post on Front Office Sports, then schedule a free consultation with an OAI representative!