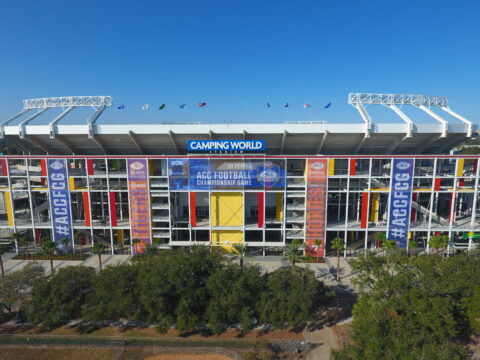 OAI Visual Branding Produces & Installs Signage for 2016 Dr Pepper ACC Football Championship Football Game
For the 2016 Dr Pepper ACC Football Championship Game, OAI produced and installed vibrant visual branding solutions to decorate Camping World Stadium. The championship game had branded graphics adorning the exterior and interior of the stadium. OAI worked with the ACC conference to feature the logos and images of the competing teams, sponsors and Atlantic Coast Conference brands. With banners measuring over 165 feet wide and 100 feet tall, OAI utilized boom lifts to install these massage graphics on the exterior of the stadium. These exterior graphics featured social media hashtags to promote the game, the teams competing in the championship and the title sponsor of the game. In the interior of the venue, OAI produced and installed field walls, tunnel covers and vinyl banners to decorate the field and mezzanine levels of the stadium. Overall the branding could be seen from the north, south, east and west which OAI was able to capture using an aerial camera.
The 2016 Dr Pepper ACC Football Championship game kicked off on prime time at 8 p.m. on ABC between Virginia Tech and Clemson. The Clemson Tigers defeated the West Virginia Hokies with a final score of 42-35. Due to the championship's high stakes, the game and related graphics were seen by as many as 5.338 million viewers.