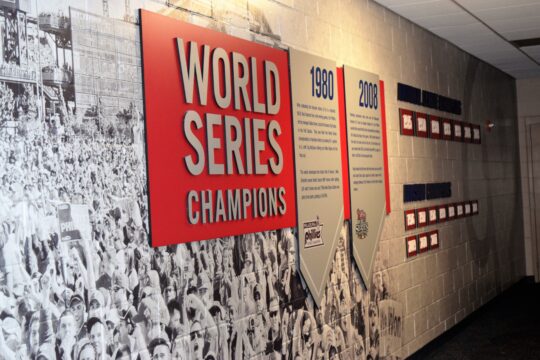 OAI Creates Branded Graphics At Phillies Spring Training Facility
The Phillies Florida organization chose OAI Visual Branding to create a new look at their training facility at Spectrum Field. OAI began this process by sitting down with the Phillies to discuss the areas and ideas they would like to use to brand their site. As a result of this briefing, OAI conducted a site survey to gain measurements and photos of the chosen areas. From the site survey, OAI's team discussed with the Phillies opportunities for branding and  products that would best suit and enhance the property. In conjunction with the images and branded content provided by the Phillies organization,  OAI's in-house artists developed creative designs that would embody the Phillies' spirit, accomplishments and history.
Visitors can first see the transformation in the Spectrum Field lobby, where a wall mural from their World Series 2009 victory and brushed aluminum display print showcase the brand's most current logo. Passing through the rest of the facility guests can see Phillies all-stars and the evolution of the Phillies 'P' through rough textured wall murals. Turning the corner, the championship wall stands out with dimensional signage showcasing the years in which the Phillies were National League Champions and Division Champions. This type of graphics was custom fabricated through brushed aluminum display prints and layers of sintra in the signature Phillies red and blue.
Through the design, production and installation of custom branded graphics, OAI brought energy to facility in order to inspire more victories for the Phillies Florida organization.
Have a project you'd like to talk to us about? Email sales@oaicorp.com to speak with one of our branding experts!