By collaborating with the NFL, SunTrust and the City of Orlando, OAI Visual Branding will create and install massive window graphics for the 2018 Pro Bowl on the side of the largest skyscraper in all Central Florida, the SunTrust Building.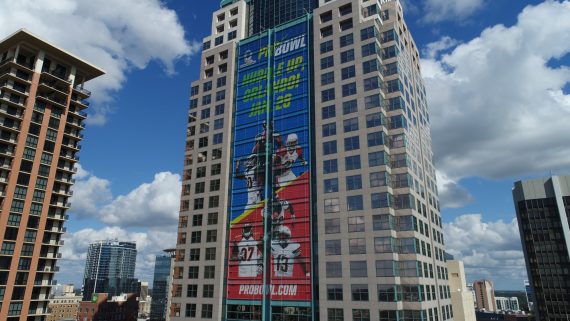 Orlando, Florida, January 12, 2018– OAI Visual Branding is collaborating with the City of Orlando, NFL and the SunTrust Building to create community pride for the 2018 NFL Pro Bowl. As the big event quickly approaches the Central Florida area, the NFL has chosen OAI to produce and install the monster-sized window graphic that will adhere directly to the unique glass skyscraper. The SunTrust Center is an iconic building towering 441 ft. in the heart of Downtown Orlando and is the highest building in all Central Florida. OAI installers will brand the building using a swing stage to adhere the graphics to the glass wrapping the building's distinctive mullions for better visibility of the creative. The window graphics will create fan excitement to Orlando's downtown area as the SunTrust building is directly above Church Street where most Pro Bowl tailgate activations will take place.
The graphic will be visible from Camping World Stadium where the NFC and AFC will kick off the 2018 NFL Pro Bowl, January 28th. The material will be printed in 64 panels; each panel having a dimension of 50 feet high by 50 inches wide and totaling 200 feet by 65 feet. That's huge! Covering fifteen floors of the skyscraper, the perforated window cling will be visible to all fans creating excitement while dressing up the City for the big event.
OAI Visual Branding
With over 30 years of experience, OAI Visual Branding is changing the game in custom integrated on-site branding. From consultative conceptual development to project completion our experienced professionals take your brand and venue to the next level by conceptually developing anything from specialty projects to full stadium takeovers. Our team's innovative design and state-of-the-art technology enable you to envision the possibilities and bring them to life – transforming your space and everyone's experience in it.